Verkada CM41 Mini Camera

1/2.8" Progressive CMOS Sensor and Built-in IR Illuminators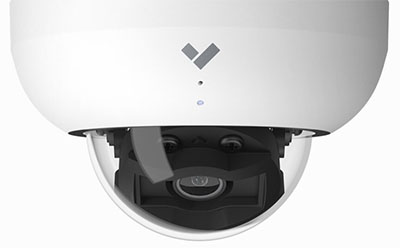 Verkada Products
Verkada 5MP Camera
Verkada CM41 Mini Indoor 5MP Camera, 30 Days of Storage
*Please Note: Verkada Command cloud license purchase required for each Verkada camera.

#CM41-30-HW
Our Price: $799.00
Verkada CM41 Mini Indoor 5MP Camera, 60 Days of Storage
*Please Note: Verkada Command cloud license purchase required for each Verkada camera.

#CM41-60-HW
Our Price: $1,199.00
Verkada CM41 Mini Indoor 5MP Camera, 90 Days of Storage
*Please Note: Verkada Command cloud license purchase required for each Verkada camera.

#CM41-90-HW
Our Price: $1,599.00
Verkada CM41 Mini Indoor 5MP Camera, 120 Days of Storage
*Please Note: Verkada Command cloud license purchase required for each Verkada camera.

#CM41-120-HW
Our Price: $1,999.00
Click here to jump to more pricing!
Overview:
With a small form factor and high-quality 5MP image resolution, this mini dome can easily be installed in any indoor environment. Designed for flexibility without compromising on image quality, Verkada's Mini Series delivers enterprise-grade security with powerful performance for advanced edge-based analytics. With minimal form factors, Verkada mini cameras are perfect for a wide-range of indoor environments.
1/2.8" Progressive CMOS Sensor
5MP (2688 x 1944) Image Resolution
Built-in IR Illuminators
Mini Series - Powerful video security in discreet form factors
Designed for flexibility without compromise, Verkada's Mini Series features discreet form factors that deliver exceptional image quality. The Mini Series is comprised of two indoor models, the CM41 (5MP) and CM61 (4K). Both the CM41 and CM61 are part of Verkada's line of hybrid cloud cameras and are ready out of the box for easy installation without any additional downloads or configurations.
With standard features like end-to-end encryption, onboard storage, and advanced motion-based insights, organizations are able to quickly scale their coverage and increase situational awareness across any number of locations.
The Mini Series cameras' powerful processing delivers advanced computer vision features including Verkada's People Analytics. With People Analytics, users can quickly filter people detected based on a variety of attributes, including clothing color, appearance, and facial matches. The footage is all processed directly on the camera, meaning results are nearly instant and always accessible.
Strengthen security and stremline surveillance management
Centralized Management - Gain visibility of all cameras with a single, easy-to-use platform
Smart Features - Everything you need to easily manage and monitor footage
Remote Access - Securely access cameras from any location, across all devices
Highlights:
Built with wall-to-wall encryption
30+ days of retained video
Live-stream sharing
Works even on LTE
Activity-based indexing and search
Automatic software updates
Easy access controls
No extra plugins or additional hardware required

Key Features:
Discreet, small form factor for indoor coverage
High-resolution image quality with options for 5MP and 4K
Up to 365 days of onboard video retention
Powerful edge-based processing for motion/tamper detection and People Analytics
Low-bandwidth impact, only using 5-20 Kbps per camera at rest
10-year warranty

Simple Setup
No need to configure VPNs, update firewalls, or reset factory-default passwords. Verkada cameras work effortlessly from the moment they leave the box.
Empowered End Users
Command, Verkada's secure web application, provides users with remote access to a centralized platform, making it easy to address situations virtually.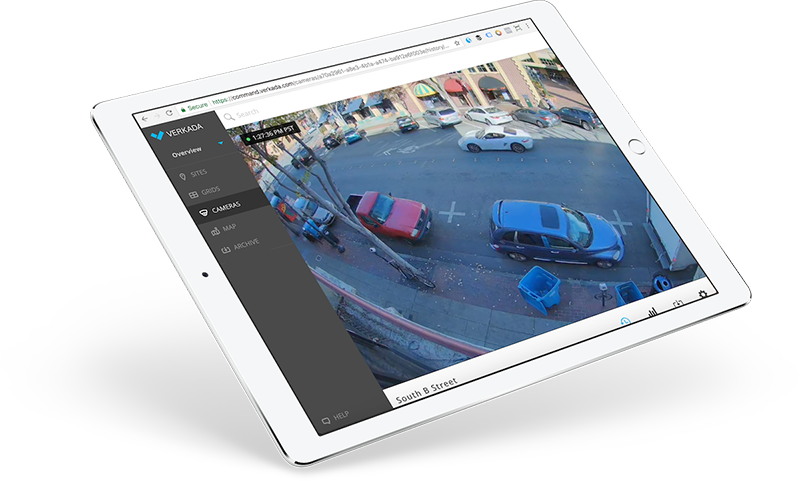 Features:
Modern, Secure Architecture
In Focus
No NVR
No insecure ports
Full HTTPS/SSL encryption
Verkada eliminates local servers and NVRs, resulting in a system architecture that is simpler, more secure, and easier to operate and manage. Open ports—which introduce security vulnerabilities in traditional camera systems—are also omitted from our system design. Out of the box, Verkada cameras are automatically self-firewalled. This safety layer prevents unauthenticated computers on the network from sending malware packets to the camera—even in the event that an attacker or virus is present on the same physical network.
Each camera communicates only via encrypted, outbound connections, underpinning an efficient and secure architecture. Video footage that's stored on each camera is encrypted with public key infrastructure (PKI), which prevents unauthorized access—even in the unlikely event that the camera itself falls into the wrong hands.
Verkada software is developed by U.S.-based engineers. As part of our rigorous software development lifecycle, all firmware is cryptographically signed by Verkada to ensure that only authentic firmware can be loaded onto each camera.
Verkada works exclusively with datacenter operators that meet the highest industry standards for security and privacy, including ISO 27001, SSAE16/ISAE 3402 Type II: SOC 2, and SSAE16/ISAE 3402 Type II: SOC 3 certifications.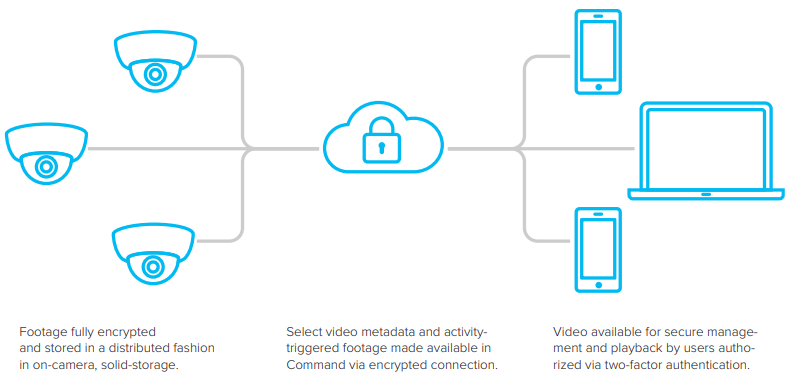 Optimal Video Retention—30 Days & Counting...
In Focus
Storage for 30 days of continuous recording
Data at rest encrypted with 128-bit AES encryption
Available options to support longer retention needs
Verkada applies a tiered, differentiated approach to meet your organization's video retention needs without hindering your local area network. Select data is securely uploaded and made readily accessible to authorized users within Command, Verkada's secure web application. Full HD video footage is stored on the camera, which has enough storage for 30 days of continuous recording.
To maximize recording time, footage is automatically degraded to regular HD if meaningful activity is not detected. For customers with longer retention requirements, Verkada offers a number of options.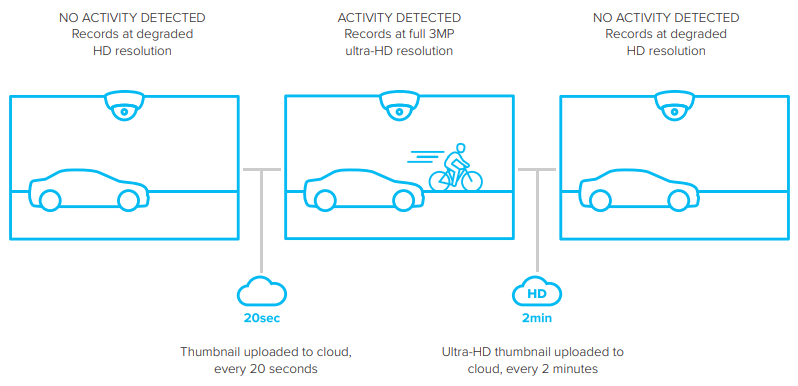 In Focus
3-megapixel resolution
Wide Dynamic Range (WDR)
8 infrared illuminators for night vision
Unmatched Picture Quality—Even at Night
Verkada cameras record at 3 megapixels, providing 50% more detail than 1080p full HD. We also utilize a broad color gamut and wide dynamic range (WDR) to maximize clarity throughout the entire image.
Once connected, our cameras automatically tune image parameters: exposure, iris, shutter speed, brightness, contrast, saturation, sharpening, tint and temperature. These parameters are continually adjusted by Verkada's algorithms, ensuring optimal image clarity. Each camera comes equipped with 8 infrared illuminators and a 1/2.8'' Progressive CMOS sensor, a combination that enables unparalleled low-light camera performance—even in the dark of night.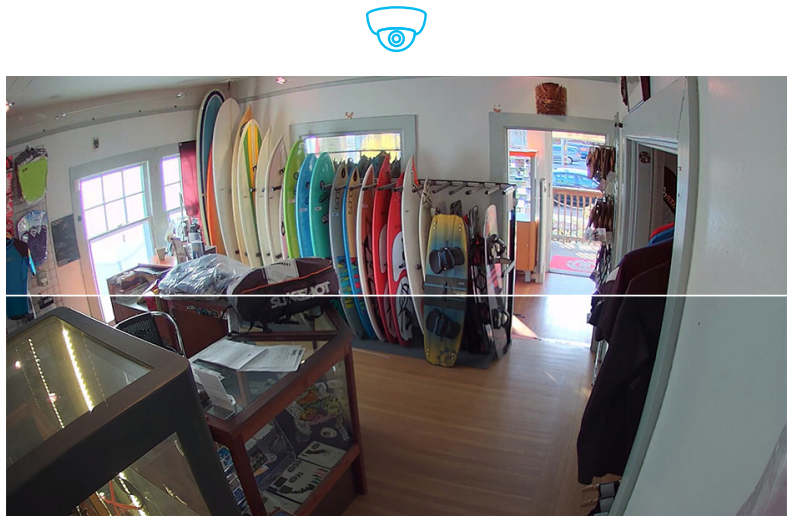 Power Access Controls & Secure Remote Access
In Focus
Granular controls for user, site and organization
Time-restricted access
Detailed access logs
Command—Verkada's secure web-based application—empowers administrators to easily and effectively manage access rights for their entire organization. Effortlessly restrict user access to an individual camera or location, and apply user roles to establish an access rights regime that fits your organization's needs. Need to grant a new regional manager access to 5 office locations? Verkada makes it straightforward and painless.
Our software also makes it easy to securely share video footage with approved third parties, such as law enforcement and legal professionals. You can export footage or easily grant expiration-dated access by inviting these partners to your secure account. With Verkada, you can even remotely share a camera's live feed in real time via SMS—a potentially life-saving feature during instances of active threats and prolonged security breaches.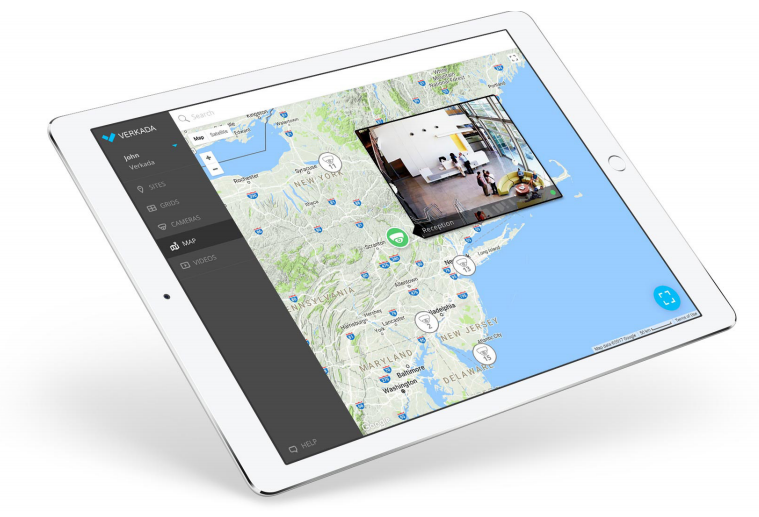 Won't Kill Your Bandwidth
In Focus
Works even on LTE connections
Doesn't require its own high-speed network
Consumes as little as 20 kbit/s per camera in low-bandwidth mode
Compared to typical IP security cameras, which upload video footage continuously to the cloud, Verkada cameras have a reduced impact on the local area network. Result: Verkada cameras work even in areas where limited internet connectivity prevents cameras from other manufacturers from operating.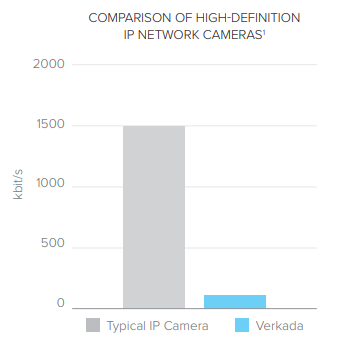 Verkada Bandwidth Use
Operating Mode
Uplink Usage
Notes
Steady state camera upload
50 kbit/s (regular)
20 kbit/s (low bandwidth mode)
Camera uploads only thumbnails and select metadata
View video stream from internet
300 kbit/s (low-res stream)
1000 kbit/s (high-res stream)
User can select low- or high-res stream within Command
View video stream from the LAN2
0 kbit/s
Coming soon
1 Actual performance may vary; comparison is between network cameras streaming 100% of footage to the cloud to Verkada cameras with split-path hybrid approach between on-camera solid-state storage and cloud. Read Report »
2 Contact Verkada Sales to learn more.
* Multiple simultaneous viewers do not increase local area network (LAN) bandwidth use from the camera — viewers securely access the video after it is proxied through Verkada Command's cloud service.
Built Tough, With Backup For The Backup
In Focus
2 redundant, failsafe firmware partitions
Camera records even in the event of network outage
Tamper detection & QA alerts
Optional cloud-backup storage available for added redundancy
Engineered with cutting-edge technology and industrial-grade materials, Verkada cameras are built to perform everywhere—and built to last. The D30 and D50 meet certification requirements for vandal resistance (IK08 and IK10, respectively); the D50 has an IP67 weatherproof rating. Uptime and reliability are ensured thanks to quality assurance (QA) alerts and tamper detection notifications, which are generated automatically by Verkada's software.
To ensure the most secure and reliable deployments, Verkada includes redundant systems throughout each camera's design. In the unlikely case that a scheduled automatic firmware update fails, for instance, two redundant firmware partitions ensure that the camera remains secure and operational. To enable optimal retention and an excellent user experience for administrators, Verkada cameras capture video at two different bitrates—high-definition for retention, and a bitrate optimized for speedier applications within Verkada Command. On-camera footage may optionally be fully backed up to encrypted cloud storage.
Finally, thanks to its on-camera storage, the Verkada camera will continue to record even in the event of a network outage. Paired with a continuous power solution, Verkada cameras will continue to reliably record even in the event of grid-power loss.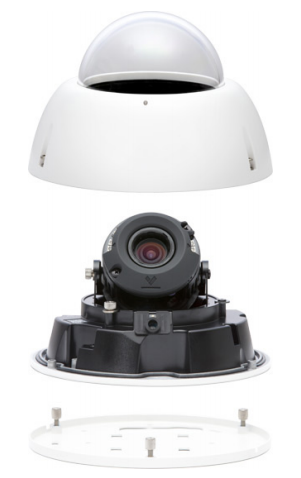 Video Analytics & Activity-Based Indexing
In Focus
Intelligent activity-based indexing & search
Activity-based video analyitcs
Map view for easy management
Thanks to cleverly designed activity-based indexing, Verkada's software automatically scans footage and logs periods when activity occurred. Using the web interface, it's easy to search a camera's historical footage by selecting areas of interest within its frame. Verkada then automatically surfaces all footage where motion occurred in these areas of the grid. Find the clip you're looking for and easily export and share. You can also use Verkada's map- and text-based search features to quickly navigate multi-site deployments comprising many cameras.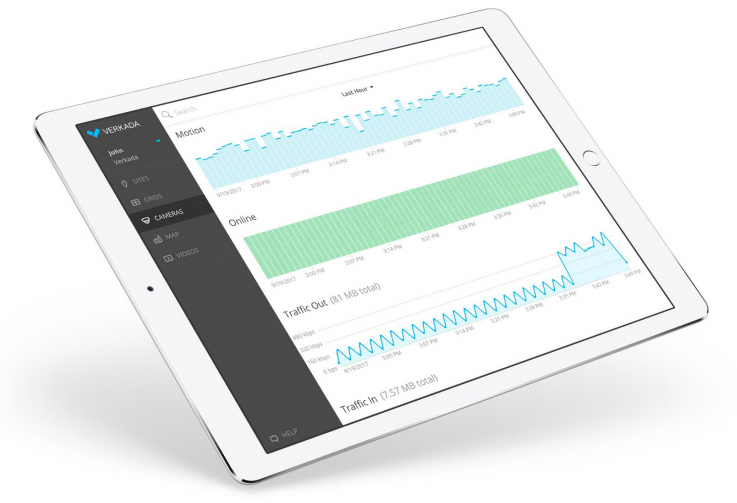 Always Up To Date, Always Ahead
In Focus
Automated firmware and software updates
Access to all new features and functionality
No more delayed security patch updates
Say goodbye to legacy systems beset by outdated firmware and security vulnerabilities. Verkada cameras automatically receive software updates and upgrades. These updates—which include the latest security enhancements as well as new features and functionality—are made available to all Verkada software license holders via periodic scheduled maintenance windows.
Our secure, automated approach ensures seamless delivery of updates without interrupting camera operability. Result: it's easy for administrators to stay ahead of emerging security threats while gaining access to all the latest features and industry-leading security camera capabilities.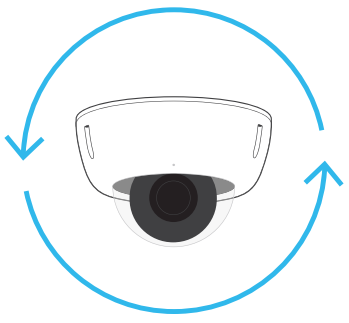 Specifications:
CM41 Mini Indoor 5MP Camera Specifications
Image Sensor
1/2.8" Progressive CMOS
Maximum Resolution
2688 x 1944 (4MP)
Lens Type
Fixed
Focus
Fixed
Focal Length
f = 2.8mm
Aperture
F1.6
Iris
Fixed
Field of View
97° Horizontal
71° Vertical
128° Diagonal
Day/Night
IR-cut filter for day & night function
IR Range
15 m / 49 ft
Focal Length
2.8mm
LED Indicator
System power and status indicator
Connectors
10/100Mb RJ-45 cable connector for Network/PoE connection
Power Input
IEEE 802.3af PoE
Power Consumption
6W
Dimensions
100 x 63 mm / 3.94 x 2.48 inches
Weight
284.6 g / 10.0 oz
Safety Certifications
IK08 vandal resistance, FCC, ICES, IEC62368
Operating Temperature
-10°C - 50°C / 14°F - 122°F
Humidity
90%
Included Accessories
Quick installation guide, screw pack
Command Cloud Software: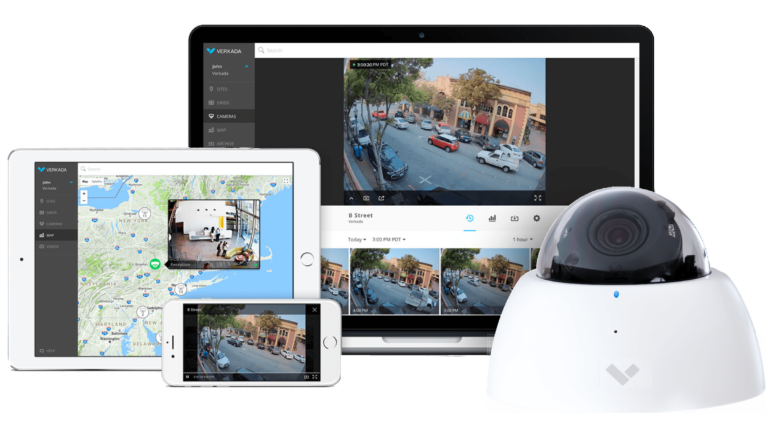 Gain Powerful New Capabilities
View video on any device, get alerts when things aren't right — even send first responders a live camera feed via SMS.
Empowered End Users
Command, Verkada's secure web application, provides users with remote access to a centralized platform, making it easy to address situations virtually.
Limitless Availability
Gain secure, 24/7 access to live video feeds from your computer, tablet or mobile device. Retain up to 120 days of on-camera storage.
Command Platform
Always on the go
No 3rd party plugins, thick clients or downloads required. Easily monitor cameras across all platforms.
Share Footage Instantly
Reduce response time by sending links of live camera footage in a matter of seconds - via SMS or email.
Find What You Need
Quickly find the footage you need with time-/date- based search and motion-based indexing.
Features:
User Permissions & Account Security
SAML/OAuth support for single sign-on
2-factor authentication (SMS, Authenticator)
Detailed user access and session logs
Minimum password strength enforcement
User permissions can be controlled at camera, site and organization levels
Remote Access
View and manage video on any device (desktop, tablet or smartphone)
No 3rd party plugins, thick clients or downloads required
iOS native mobile app support
Video Search
Search by time/date
Motion-based indexing and search
Search by camera name, site
Single workflow for export and sharing of mp4 video clips
Bandwidth Consumption
No activity, no view mode: 20 kbps per camera
View mode (standard definition): 300 kbps per camera
View mode (high definition): 1,000 kbps per camera
Video Sharing
Create and share a link to live video stream
One-click thumbnail download to capture a single frame
Embed code generator for embedding video in webpages
Shared streams are proxied and multiplexed in the cloud (can be viewed by high volumes of users without impacting camera uplink usage)
UI Controls for Camera Settings
3X optical zoom (3mm-9mm)
30X digital zoom
Auto focus; manual focus controls
Camera orientation
Centralized Admin
Interactive map view of all sites and cameras
Editable camera metadata and network settings
Single view into system-wide status
Camera orientation
People, Vehicle and Object Detection
Speed up incident resolution by filtering event motion playback by people or vehicle activity.
Receive notifications when people or vehicle event motion enters into the camera frame. (Gets rid of false positives from non-human or vehicle activity).
Verkada cameras optimize bandwidth usage with people and vehicle activity in mind.
Alerts & Notifications
24/7 system health monitoring
Offline camera alerts (SMS, email)
Tamper detection and alerts (SMS, email)
Bespoke activity-triggered alerts (contact Verkada Professional Services)
Data & Network Security
Encryption in transit: HTTPS/SSL
Encryption at rest: RSA & AES
Cameras make secure HTTPS outbound connections only (via Port 443)
No port-forwarding, no insecure RTSP streaming, no complicated VPNs, no web server configuration
Video Retention
On camera, solid-state storage options: 30, 60, 90 or 120 days
Archived video file format: mp4
Cloud storage of video clips included in software license — extended cloud backup available for full recordings added cost
Automatic Firmware Updates
Regular firmware updates: new features, security enhancements
Ability to select during which maintenance window to schedule updates
Redundant firmware partitions for failsafe updates
All software and firmware updates included in the cost of each license
Video Analytics
Activity and motion-based analytics
Network traffic analytics
System health analytics (uptime, camera online)
Live Monitoring
Customizable, rotating views of up to 9 cameras — view on any monitor or device
Support for Public View Monitor (PVM) use cases
View on local area network (LAN) only
APIs & Custom Integrations
Custom integrations assessed and supported for enterprise use cases by Verkada's Professional Services team
People and Vehicle Counting
Determine the amount of people and vehicles in a given camera frame.
Get valuable business insights: analytics on people, vehicle count and traffic over time.
Command Platform
All-in-one cloud-based management software for Verkada security cameras
Command, Verkada's cloud-based management software, is designed to deliver simple access and management for all cameras and users across all sites from virtually anywhere in the world. From Command, users can set up new cameras, create new sites, manage settings, access live and archived footage, manage users, and access the advanced features powered by Verkada's edge-based analytics.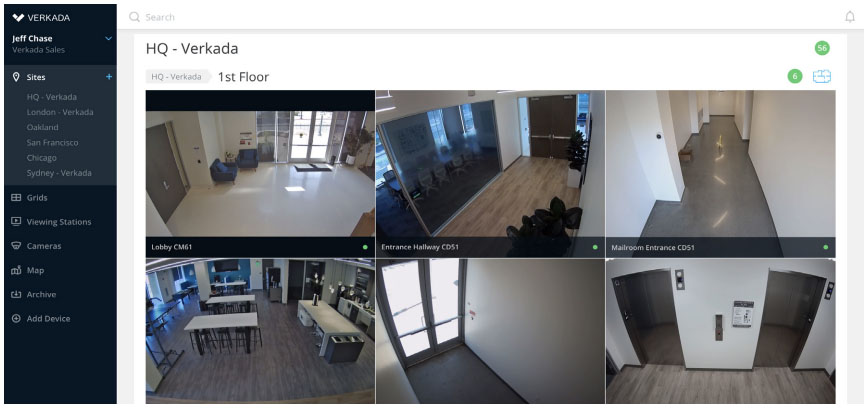 Remote Access
Access from any device (desktops, smartphones, tablets)
Native apps for iOS and Android, Apple TV, and Verkada's VX51 Viewing Station
User Permissions & Account Security
SAML/OAuth support for single sign-on
2-factor authentication
User permissions can be controlled at camera, site and organization levels
Powerful Edge-Based Analytics
Search footage by date, time, and motion
Access People and Vehicle Analytics to simplify investigations
Archiving and Sharing
Command licenses include unlimited cloud archiving
Easily export any footage in a shareable MP4 format
Create and share Live Links with first responders
Key Features
View and manage video from any device (desktop, smartphone, tablet)
No 3rd party plugins, thick clients, or downloads required
Encryption in transit and at rest
No port-forwarding or VPNs
Detailed user access and audit logs
Live Link sharing
Unlimited cloud archiving with footage exports in MP4 format
Alerts for offline cameras, tampering, and motion detection
Verkada's People Analytics
Simplify and speed up investigations with intelligent people and face detection
Available across Verkada's Mini Series, People Analytics combines intelligent edge-based video processing with computer vision in the cloud to give users high-quality images of all individuals identified in the scene. With Verkada's centralized management platform, customers can filter people by various attributes, including date, time, appearance, clothing color, backpack detection, and facial matches.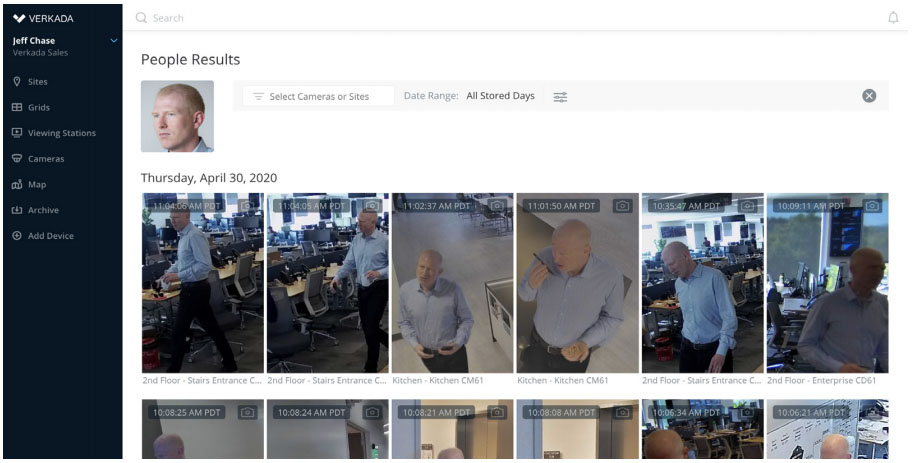 Bring Intelligence to Investigations
Person History
Browse through high-resolution snapshots of people detected in frame
Save snapshots or easily access associated full-res video
Face Search
Quickly search for matching people by selecting an existing face from your organization or by uploading an image
Person of Interest Alerts
Automate alerts for when pre-selected individuals are detected across your organization
Cross-Camera Tracking
Easily find potential suspects or people of interest across all cameras deployed across all sites
Create and export playback of multiple angles of a person to quickly provide evidence
Attribute Filters
Filter based on a range of attributes, including clothing color, gender appearance, and facial matches
Investigate Anywhere
People Analytics is available from any device and can be accessed from virtually anywhere in the world
Pricing Notes:
Pricing and product availability subject to change without notice.
Verkada Products
Verkada 5MP Camera
Verkada CM41 Mini Indoor 5MP Camera, 30 Days of Storage
*Please Note: Verkada Command cloud license purchase required for each Verkada camera.

#CM41-30-HW
Our Price: $799.00
Verkada CM41 Mini Indoor 5MP Camera, 60 Days of Storage
*Please Note: Verkada Command cloud license purchase required for each Verkada camera.

#CM41-60-HW
Our Price: $1,199.00
Verkada CM41 Mini Indoor 5MP Camera, 90 Days of Storage
*Please Note: Verkada Command cloud license purchase required for each Verkada camera.

#CM41-90-HW
Our Price: $1,599.00
Verkada CM41 Mini Indoor 5MP Camera, 120 Days of Storage
*Please Note: Verkada Command cloud license purchase required for each Verkada camera.

#CM41-120-HW
Our Price: $1,999.00
Verkada Command Cloud License
Verkada Command Cloud License, 1 Year

#LIC-1Y
Our Price: $199.00
Verkada Command Cloud License, 3 Year

#LIC-3Y
Our Price: $499.00
Verkada Command Cloud License, 5 Year

#LIC-5Y
Our Price: $799.00
Verkada Command Cloud License, 10 Year

#LIC-10Y
Our Price: $1,599.00
Verkada Accessories
Verkada PoE Plus (802.3at) Injector, GigE

#INJ-POE-PLUS
Our Price: $129.00
Verkada Mini Camera Pendant Cap Mount Kit

#ACC-MNT-5
Our Price: $79.00
Verkada Mini Camera Junction Box Mount Adapter

#ACC-MNT-6
Our Price: $59.00