Verkada Command Center

Unlimited Users, Automatic Firmware Updates, Live Support, Cloud Archive and Platform SLA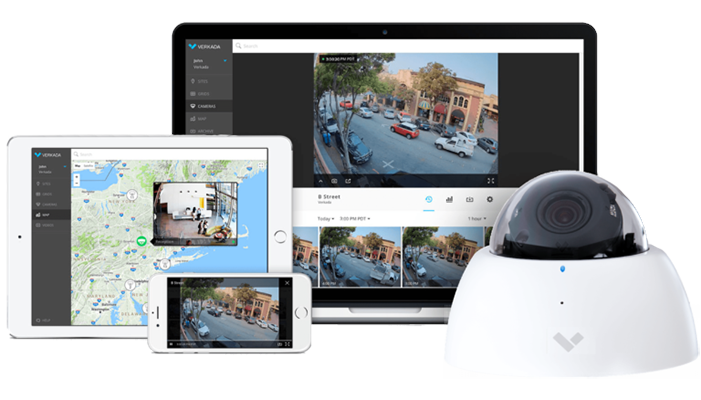 Verkada Products
Verkada Command Cloud License
Verkada Command Cloud License, 1 Year

#LIC-1Y
Our Price: $199.00
Verkada Command Cloud License, 3 Year

#LIC-3Y
Our Price: $499.00
Verkada Command Cloud License, 5 Year

#LIC-5Y
Our Price: $799.00
Verkada Command Cloud License, 10 Year

#LIC-10Y
Our Price: $1,599.00
Click here to jump to more pricing!
Overview:
Gain Powerful New Capabilities
View video on any device, get alerts when things aren't right — even send first responders a live camera feed via SMS.
Empowered End Users
Command, Verkada's secure web application, provides users with remote access to a centralized platform, making it easy to address situations virtually.
Limitless Availability
Gain secure, 24/7 access to live video feeds from your computer, tablet or mobile device. Retain up to 120 days of on-camera storage.
Command Platform
Always on the go
No 3rd party plugins, thick clients or downloads required. Easily monitor cameras across all platforms.
Share Footage Instantly
Reduce response time by sending links of live camera footage in a matter of seconds - via SMS or email.
Find What You Need
Quickly find the footage you need with time-/date- based search and motion-based indexing.
Features:
User Permissions & Account Security
SAML/OAuth support for single sign-on
2-factor authentication (SMS, Authenticator)
Detailed user access and session logs
Minimum password strength enforcement
User permissions can be controlled at camera, site and organization levels
Remote Access
View and manage video on any device (desktop, tablet or smartphone)
No 3rd party plugins, thick clients or downloads required
iOS native mobile app support
Video Search
Search by time/date
Motion-based indexing and search
Search by camera name, site
Single workflow for export and sharing of mp4 video clips
Bandwidth Consumption
No activity, no view mode: 20 kbps per camera
View mode (standard definition): 300 kbps per camera
View mode (high definition): 1,000 kbps per camera
Video Sharing
Create and share a link to live video stream
One-click thumbnail download to capture a single frame
Embed code generator for embedding video in webpages
Shared streams are proxied and multiplexed in the cloud (can be viewed by high volumes of users without impacting camera uplink usage)
UI Controls for Camera Settings
3X optical zoom (3mm-9mm)
30X digital zoom
Auto focus; manual focus controls
Camera orientation
Centralized Admin
Interactive map view of all sites and cameras
Editable camera metadata and network settings
Single view into system-wide status
Camera orientation
People, Vehicle and Object Detection
Speed up incident resolution by filtering event motion playback by people or vehicle activity.
Receive notifications when people or vehicle event motion enters into the camera frame. (Gets rid of false positives from non-human or vehicle activity).
Verkada cameras optimize bandwidth usage with people and vehicle activity in mind.
Alerts & Notifications
24/7 system health monitoring
Offline camera alerts (SMS, email)
Tamper detection and alerts (SMS, email)
Bespoke activity-triggered alerts (contact Verkada Professional Services)
Data & Network Security
Encryption in transit: HTTPS/SSL
Encryption at rest: RSA & AES
Cameras make secure HTTPS outbound connections only (via Port 443)
No port-forwarding, no insecure RTSP streaming, no complicated VPNs, no web server configuration
Video Retention
On camera, solid-state storage options: 30, 60, 90 or 120 days
Archived video file format: mp4
Cloud storage of video clips included in software license — extended cloud backup available for full recordings added cost
Automatic Firmware Updates
Regular firmware updates: new features, security enhancements
Ability to select during which maintenance window to schedule updates
Redundant firmware partitions for failsafe updates
All software and firmware updates included in the cost of each license
Video Analytics
Activity and motion-based analytics
Network traffic analytics
System health analytics (uptime, camera online)
Live Monitoring
Customizable, rotating views of up to 9 cameras — view on any monitor or device
Support for Public View Monitor (PVM) use cases
View on local area network (LAN) only
APIs & Custom Integrations
Custom integrations assessed and supported for enterprise use cases by Verkada's Professional Services team
People and Vehicle Counting
Determine the amount of people and vehicles in a given camera frame.
Get valuable business insights: analytics on people, vehicle count and traffic over time.
Screenshots: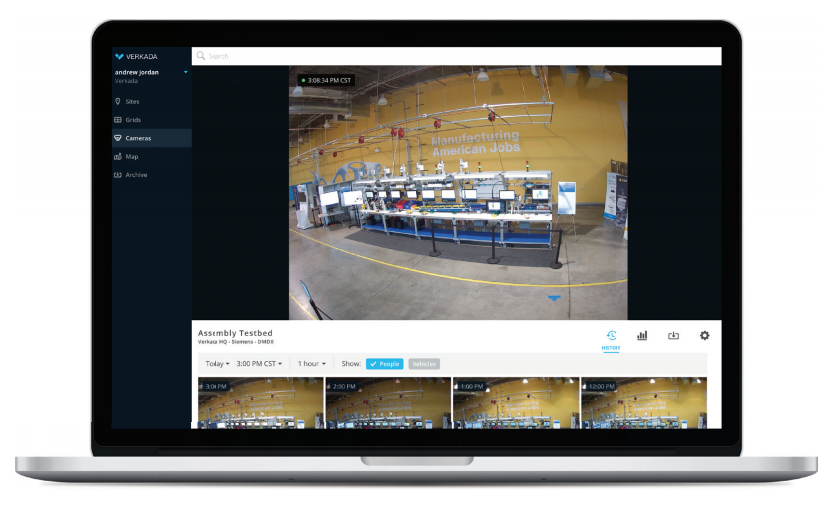 Pricing Notes:
Pricing and product availability subject to change without notice.
Verkada Products
Verkada Command Cloud License
Verkada Command Cloud License, 1 Year

#LIC-1Y
Our Price: $199.00
Verkada Command Cloud License, 3 Year

#LIC-3Y
Our Price: $499.00
Verkada Command Cloud License, 5 Year

#LIC-5Y
Our Price: $799.00
Verkada Command Cloud License, 10 Year

#LIC-10Y
Our Price: $1,599.00